Our next WVARA meeting will be held in-person at 7pm on Wednesday, March 8, in Meeting Room 3 at the Silicon Valley Chapter of the American Red Cross, 2731 N. First Street at Plumeria Drive (southwest corner) in San Jose.   If you haven't been to the Red Cross in a while, "talk-in" is usually available on the Association's repeaters. Best choice would be 2m/220.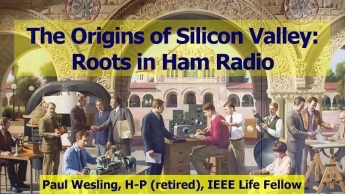 Social time for this month's meeting will begin around 6:45pm, with this month's presentation beginning at 7pm.   This month's presenter is Paul Wesling, KM6LH, who will be speaking about amateur radio's dramatic impact on the beginnings of the Silicon Valley.  Why did Silicon Valley come into being?   The  story  goes  back  to  local  Hams  (amateur  radio  operators) trying to break RCA's tube patents, "angel"  investors, the sinking of the Titanic, Fred Terman and  Stanford  University,  local  invention  of  high‐power  tubes,  WW  II  and  radar,  William  Shockley's  mother  living in Palo Alto, and the SF Bay Area infrastructure  that  developed  –  these  factors  pretty  much  determined that the semiconductor and IC industries  would be located in California's Santa Clara Valley, and  that the Valley would remain the world's innovation center as new technologies emerged – computers, then  software, mobile, biotech, Big Data, VR/AR, autonomous vehicles and now blockchain – and it would become  the model for innovation worldwide.    This presentation gives an exciting and colorful history of device technology development and innovation that  began in Palo Alto, then spread across the Santa Clara Valley during and following World War II.  You'll meet  some of the colorful characters – Cyril Elwell, Leonard Fuller, Lee de Forest, Bill Eitel W6UF, Charles Litton 6AO,  Fred Terman 6AE/W6DI, David  Packard 9DRV,  Bill Hewlett,  Russ  Varian and  others – extending  to Nolan  Bushnell W7DUK and Steve Wozniak WA6BND – who came to define the worldwide electronics industries  through their inventions and process development.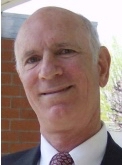 Paul is an IEEE Life Fellow and Distinguished Lecturer and has observed the Valley for decades as an engineer, executive, resident, and educator. He received degrees in electrical engineering and materials science from Stanford University, then worked locally at companies including Lenkurt Electric, Sperry‐ Univac, and Amdahl, joining Tandem Computers in Cupertino in 1985. Paul retired from HP in 2001, then served as "Mr. IEEE" for the San Francisco Bay Area for 10 years. He is a Life Fellow of the IEEE. He received the IEEE's Centennial Medal, the Board's Distinguished Service award, the Society Contribution Award, the IEEE's Third Millennium Medal, and the EPS Society's Presidential Recognition Award. He edits the IEEE/ASME/SEMI Heterogeneous Integration Roadmap for prediction of technology directions in electronics packaging.
BTW, several of us meet for dinner prior to the meeting at 5:45pm nearby at Disn-N-Dash (2551 N. 1st St. San Jose): https://dishdash.com Feel free to join us for dinner.
Although we will be meeting in person, Paul's presentation will also be streamed via Zoom. Zoom instructions will be sent via WVARA reflector and can likewise be obtained by contacting K6EI — his email is available via QRZ.

Three things to remember:
Since the west side entrance to the Red Cross Building is always locked, we recommend entering the Red Cross Building through the main entrance situated on the north side of the building.
The Red Cross locks the main entrance at 7pm sharp, so please come a few minutes early in order to get access to the building.
We will be in Meeting Room 3 — about 100 feet from any entrance. As a result, late comers who knock on an outside door won't be heard from our meeting room. If you are late and need access, you can call my cellphone (408 636-6172) and someone will come let you in. But please try to arrive before 7pm to avoid this hassle.
– Jim, K6EI