Monthly Archives: February 2021
Download Gary Johnson's (NA6O), PDF Presentation from our February 10th meeting.
Dear WVARA Members,
Congratulations to WVARA for a competitive 3rd place finish among 32 clubs in the Small CA Club category. Thank you for participating in the California QSO Party last October!
California QSO Party 2020 results are now available at:
https://cqp.org/Results.html
Highlights:
* 1,365 logs received. 48% increase in logs over 2019. Beats all-time CQP record logs received by a margin of 360 logs.
* Records shattered. 104 new records set. All-time CA S/O HP record set by KI6RRN and all-time CA S/O LP record set by N5ZO. New club records set by SCCC, REDXA and TCG.
* Strongest Top 10 CA S/O scores in the history of CQP. The threshold to place in the Top 10 of all Single-Ops inside CA was over 300,000 points, an all-time high.
* SEQUOIA 1×1 station success. Over 42,000 QSOs were made by our 21 1×1 SEQUOIA stations. 11 stations outside of CA made more than 100 overall QSOs with the SEQUOIA stations. Over 500 stations spelled SEQUOIA at least once.
* 57 plaques, 40 bottles of wine, 13 SEQUOIA calendars and hundreds of certificates will be awarded.
* Largest results package in CQP history. 19 PDF files, links to two SEQUOIA station blogs, and a link to your 2020 CQP Certificate of Achievement await you at https://cqp.org/Results.html
Stand by for more information about the SEQUOIA certificates.
* Make sure to look for your callsign listed in all of these files. You may very well find yourself listed in a Top 10 table of the comeback award, operating time improvement award or the top 10 SEQUOIA QSO counts by operating class.
Thank you for participating in CQP 2020!
73…
-Dean – N6DE
CQP Organizing Team: K6MM, NS6T, W6GJB, N6DE
WVARA's next monthly meeting will be on Wednesday, February 10, at 7pm via Zoom.  
Gary Johnson, NA6O, will tell us how to reduce/eliminate RF noise before it gets into your transceiver.  Gary will discuss how RF interference to amateur radio is steadily increasing due to the wide-spread use of poorly-filtered commercial electronic devices. In this talk, we will learn about these noise sources, how to locate them, and a number of techniques to reduce their effects. Lists of references and resources will be provided.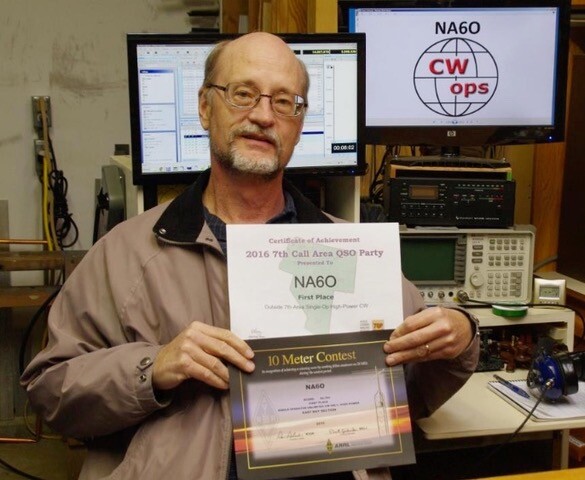 Bio:    Gary Johnson, NA6O, is a retired electronics engineer with a degree from the University of Illinois. His entire career was spent at Lawrence Livermore National Laboratory where he used his diverse skills in measurement and control systems, electro-optics, transducers, circuit design, and technical writing. Gary holds nine patents and wrote two books. He grew up near Chicago and was first licensed as a junior high student in 1972. These days, he enjoys station building, contesting, and anything to do with CW, in addition to his other hobbies of woodworking and metalworking. He and his wife, Katharine, live in Livermore.
Zoom meeting information will be sent via email.
Hope to see you there!Jim, K6EI, WVARA Vice President