Our next WVARA meeting will be held in-person on Wednesday, April 12, in Meeting Room 3 at the Silicon Valley Chapter of the American Red Cross, 2731 N. First Street at Plumeria Drive (southwest corner) in San Jose. If you haven't been to the Red Cross in a while, "talk-in" is usually available on the Association's repeaters. Best choice would be 2m/220.
BTW, several of us meet for dinner prior to the meeting at 5:40pm nearby at Disn-N-Dash (2551 N. 1st St. San Jose): https://dishdash.com . Feel free to join us.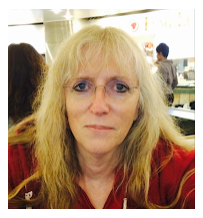 This month's speaker will be Kristen McIntyre, K6WX, who will discuss "A Wire in the Air: What Matters Most".  The magic of radio happens when we couple RF into the fabric of spacetime. We do that with an antenna. These devices are simultaneously simple and complex. It's easy to get lost in the theory or fooled by the latest anecdote. Let's look at what's important in antenna choice and design. There are things that matter more than others, and it's never perfect. And a bit of theory will guide us. Radiation resistance, loss, pattern gain, terrain, polarization, coupling, loading – they all play a role. Join us to find out what happens and what matters when we put a wire in the air.
Social time will begin at 6:45pm, with greetings and club business at 7pm followed by Kristen's presentation.   Kristen has been interested in radio since she was about 5 years old.  She started in Amateur Radio in 1979 getting her ticket while at MIT.  Kristen has worked in many diverse areas from analog circuit design to image processing to starting and running an ISP.  She is currently working at Apple in Core Networking, and spent many years at Sun Microsystems Laboratories where she was researching robustness and emergent properties of large distributed computer systems.  She is a long time denizen of Silicon Valley and has worked at or consulted for many of the usual suspects.  Kristen is an active ham and loves to chase DX on HF with her Elecraft K2 which she built while visiting her mother in Florida.  She is ARRL Pacific Division Director, president of the Palo Alto Amateur Radio Assoc., the Q&A columnist for Nuts and Volts magazine, and is active in many local clubs.  Kristen was recently inducted into the CQ Amateur Radio Hall of Fame.

Three things to remember:
Since the west side entrance to the Red Cross Building is always locked, we recommend entering the Red Cross Building through the main entrance situated on the north side of the building.
The Red Cross locks the main entrance at 7pm sharp, so please come early in order to get access to the building.
We will be in Meeting Room 3 — about 100 feet from any entrance. As a result, late comers who knock on an outside door won't be heard from our meeting room. If you need help getting in the door, you can call Tim, KN6FGH, at 408-929-9311.
Although we will be meeting in person, Kristen's presentation will also be streamed via Zoom.  Zoom instructions will be sent via WVARA reflector and can likewise be obtained by contacting K6EI — his email is available via QRZ.